Psychédélices is Alizée's third studio album.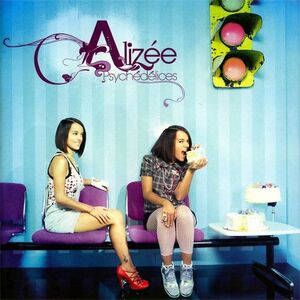 Psychédélices

Length

41:40

Tracks

11
The album was released on December 3, 2007 in France, Belgium and Switzerland. At this time, the album had already been released in Mexico on November 23 the same year. It was available for digital download in France before it was released there though. It was released in Poland on January 28, 2008 and in Germany on February 8, 2008. It sold 70,000 copies in France, more than 150,000 copies in Mexico and more than 10,000 copies in Russia. This was Alizée's first album without her previous producers, Mylène Farmer and Laurent Boutonnat. Alizée collaborated with Bertrand Burgalat, Daniel Darc, Oxmo Puccino, Jérémy Chatelain, Michel-Yves Kochmann and Jean Fauque on this album. The first single from the album was Mademoiselle Juliette. It had debuted on radio stations already in September. The second and final single was Fifty-Sixty which was released in February, 2008. The album didn't do well in France. It only lasted for 7 weeks in the top 100 even though it peaked at number 16 in the first week. In Mexico, the album became a success and became the 52nd best selling album of the year. To promote the album in Mexico for the upcoming Psychédélices Tour, the song Lilly Town was sent to Mexican radio stations in March, 2008. Lilly Town was meant to be the second single of the album but Fifty-Sixty was released as it instead. Alizée also released La Isla Bonita, a cover of Madonna's song with the same name as a single in August, 2008.
Psychédélices World Tour
Edit
Main article: Psychédélices Tour
In 2008, Alizée did 7 concerts to promote her album. She did one concert in Russia and another six in Mexico. Another concert was planned to take place in Paris, France but was cancelled. The tour started with a concert in Moscow in May, 2008 and was followed up by five more concerts in Mexico over a period of 8 days the next month (June). The France concert was supposed to be held on March 28, 2009. The final concert of the tour less than a month later in Aguascalientes, Mexico was still held though on April 18, 2009.
Psychédélices - Mexican Tour Edition
Edit
Main article: Mexican Tour Edition
On June 25, 2008, Psychédélices - Mexican Tour Edition was released. It shipped 50,000 copies in the first week. This album was released as CD+DVD. The CD contained the same 11 songs as the album plus La Isla Bonita as well as two remixes of Fifty-Sixty and one remix of Mademoiselle Juliette. The DVD contained the music videos for both of her singles and some other material.
Track listing
Edit
1. Mademoiselle Juliette - 3:00
2. Fifty-Sixty - 3:43
3. Mon taxi driver - 3:09
4. Jamais plus - 3:26
5. Psychédélices - 4:35
6. Décollage - 3:50
7. Par les paupières - 4:27
8. Lilly Town - 3:55
9. Lonely List - 3:53
10. Idéaliser - 3:58
11. L'effet - 3:44
Main article: Alizée singles
Main article: Alizée chart history
Chronology
Edit
See also
Edit
Community content is available under
CC-BY-SA
unless otherwise noted.