After a tour of 5 concerts in Mexico and 1 concert in Russia, 2 more concerts was added to Alizée's Psychédélices Tour. One of them was going take place at Le Grand Rex in Paris, France on October 23, 2008 but was rescheduled. The reason for the rescheduling was because of an award ceremony in Mexico that Alizée would attend to. The concert was moved to March 28, 2009 but was later cancelled. Even though the concert was cancelled, the second added concert in Aguascalientes, Mexico which took place less than a month later was not cancelled.
Cancellation
Edit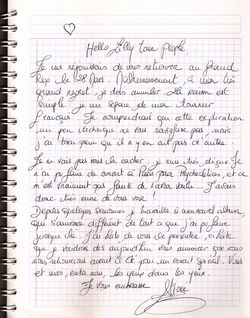 Words about a possible cancellation of the concert started on March 4. People who had purchased tickets started to receive e-mail notifications about the cancellation from the ticket sellers on March 6. On March 9, a hand written letter from Alizée was published online on official Alizée sites such as MySpace. According to Alizée, the reason for the cancellation was because she had split up with her French tour manager.
Hello Lilly Town people,
Je me réjouissais de vous retrouver au Grand Rex le 28 mars. Malheureusement à mon très grand regret, je dois annuler. La raison est simple : je me sépare de mon tourneur français. Je comprendrais que cette explication un peu technique ne vous satisfasse pas, mais j'ai bien peur qu'il n'y en ait pas d'autre.
Je ne vais pas vous le cacher : je suis très déçue. Je n'ai pu faire de concert à Paris pour Psychédélices, et ce n'est vraiment pas faute de l'avoir voulu ... J'avais donc très envie de vous voir !
Depuis quelques semaines je travaille à mon nouvel album, qui s'annonce différent de tout ce que j'ai pu faire jusque là. J'ai hâte de vous le présenter, si hâte que je voudrais dès aujourd'hui vous annoncer que nous nous retrouverons avant l'été pour un concert spécial. Vous et moi, entre nous, les yeux dans les yeux.
Je vous embrasse Alizée
Translation
Edit
Hello Lilly Town people,
I was delighted to be seeing you at the Grand Rex the 28th of March. Unfortunately, to my great regret, I must cancel. The reason is simple: I am splitting with my French tour manager. I understand that this explination, a bit technical, does not satisfy you, but I'm afraid there is no other.
I am not going to hide it from you: I am very disappointed. I could not do this concert in Paris for Psychédélices, and it is really not for lack of wanting to. I had much desired to see you!
For the last few weeks I have been working on my new album, which looks different from anything I've been able to do so far. I can't wait to present it to you, such haste I have that I would like, starting today, to announce to you that we will meet before summer for a special concert. You and me, together, eye to eye.
I kiss you, Alizée
See also
Edit
Community content is available under
CC-BY-SA
unless otherwise noted.